The Cutaneous Communication Laboratory at Princeton
Lauren Cesaro, B. A.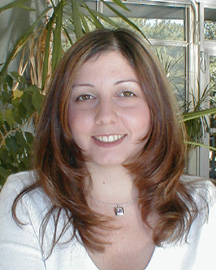 Ms. Cesaro, a Laboratory Assistant II, has been working in the Cutaneous Laboratory since January, 2001. She graduated from Rider University in 1999 with BA in Psychology and a certificate in art. Lauren has spent the last year working in the field of Behavior Modification at Eden with autistic adults. Laurens contribution to the laboratory is keeping accurate records of the progress of students and observers through the test series as well as advertising for, contacting, scheduling, and testing student observers in experiments. She is responsible for preparing raw data for statistical analysis and some preliminary statistical and graphical analyses.
---
---
Updated: Jan 06
---