Directions to
The Tactile Research Laboratory at NAMRL
From On or Off-Base

The Tactile Research Lab at the Naval Aerospace Medical Research Laboratory
in the Spatial Orientation Building
Off-Base (see map below):
Enter the Main Gate and take the right split onto Duncan Road.
Follow Duncan for approximately one mile.
As Duncan curves to the left, another split in the road occurs. Continue straight at the split for about one block to the front of NAMRL, Building 1953 (This building contains our administrative services as well as a number of other laboratories.)
To Building 1811, follow the left fork (Murray Road) and continue until you see the chapel (about 2 miles).
Take the right fork onto Moffett Road
Turn left onto Fisher Avenue.
On-Base (see map below):

We are located on Fisher Avenue at the point where Saufley Street intersects it. The building is at the bottom right of the map, below, in a red circle pointed at with the arrow. Building 1811 has a distinctive roofline, with a round conical peak that tops off one of our acceleration devices. The entrance to the laboratory is on the side of the building, under the overhang, just off of the parking lot between the Bowling Alley and the Spatial Orientations lab. There is a large oval running track right behind us, and the BOQ is just beyond that, due North of us. The Chapel is East of us on the other side of the Parade Field.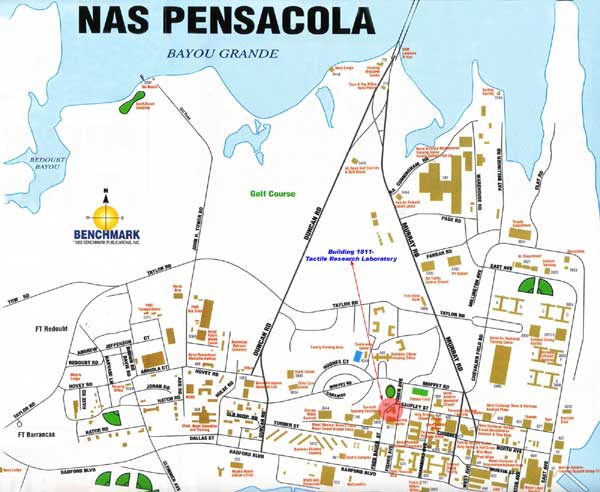 Click for Full-sized Map
NEXT ->
Return to Tactile Research Laboratory Home Page